It can be pretty daunting when you first buy a house with a pool or have a pool installed. There is little else to compare pool maintenance to as it is a totally different method of cleaning to the way you clean most other things and the pool cleaning equipment is too.
What swimming pool cleaning tools do you need to keep a pool clean is an important question asked by most new swimming pool owners. Cleaning a pool is not rocket science but you will need some essential swimming pool cleaning equipment to maintain it properly and keep it clean.
Basic swimming pool cleaning equipment list that you will need to start with:
Vacuum head
Vacuum hose
Telescopic pole
Skimmer net
Pool brush
I inherited a few old bits and pieces of pool cleaning equipment when I bought my current house 9 years ago in Fuerteventura and quickly realized why the previous owner left them. They were awful and/or broken so I set about building up a collection of new tools.
Some of the pool tools I bought were good while others were not so good. Hopefully the following advice on my picks for the best pool supplies may save you from making the same mistakes.
You will also need pool chemicals, pool sanitizer, pool shock and pool water testing strips but these will be covered in a separate post.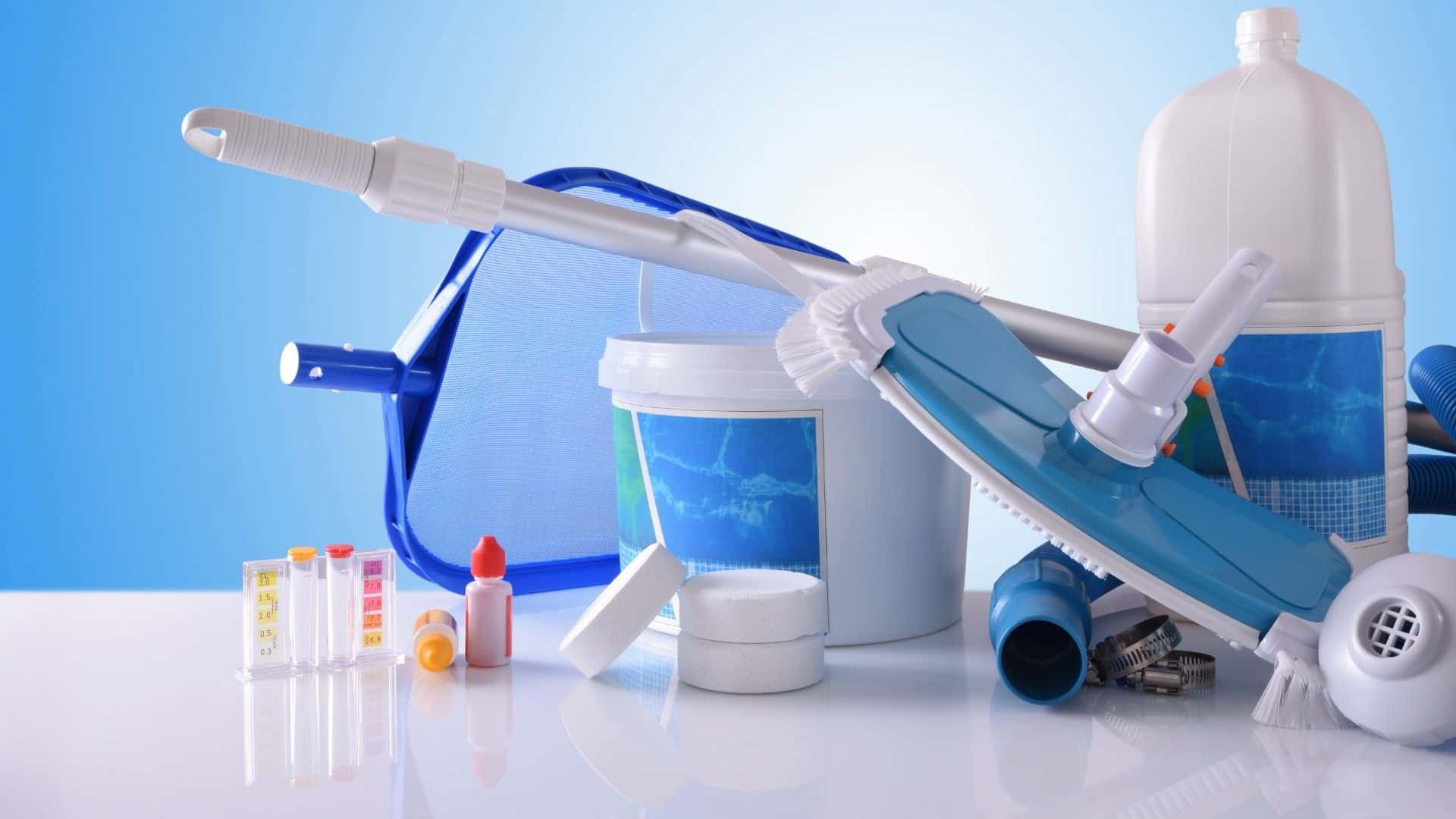 Essential pool cleaning equipment list
These are the best pool cleaning tools that I have used. Clearly, I haven't tested every swimming pool tool, although I have used some which were either useless or did not do such a good job as the pool maintenance tools I use below.
1. Manual pool vacuum head
A pool vacuum head is one of the most important cleaning tools as it is this you will use to remove the dirt from the bottom of the pool. You will use pool vacuums at least once a week so it is worth buying well.
I actually have a few different vacuum heads that I have accumulated over the years and each has its particular uses (for example one I have is very good for vacuuming into the 90º corners). But to start off you can just buy one good all-rounder. Fortunately, they are not too expensive so you can buy more than one in time.
A good all-rounder is the Milliard Sea-Thru Triangle Weighted Pool and Spa Vacuum Head. It has a two-size vacuum port so will fit both 1½ and 1¼ inch hoses and will fit most pool poles.
2. Pool vacuum hose
A pool hose will attach to the vacuum head at one end and into a skimmer port at the other. It is probably pretty obvious but you will need a hose that will reach from the skimmer (or the dedicated vacuum inlet if you have one) to the point of your pool floor that is further away from it. See What length pool vacuum hose do I need?
Ideally the hose should be a few feet longer than that distance so that it doesn't get pulled tight as this could potentially pull the hose out of the skimmer or from the head of the vacuum. My first hose was only just long enough. More than once I was vacuuming at the far end and wondering why it wasn't picking up the dirt before I looked over and saw the other end of the tube floating out of the skimmer!
One of the most popular ranges is the U.S. Pool Supply vacuum hoses. They can be bought in lengths from 25ft to 40ft and have a swivel fitting to stop the hose from becoming kinked as you vacuum. The U.S. Pool Supply 1-1/2″ x 40 Foot Professional Heavy Duty Spiral Wound Swimming Pool Vacuum Hose with Swivel Cuff will certainly cover most pools and is available on Amazon.
3. Telescopic pool pole
You may find that you need more than one otherwise you will be swapping the tools from a pool brush to a skimmer net and then to a vacuum head. But you can make do with just one to start with and put up with the switching. At some stage you will probably end up with one pole for each of these though.
Although this may seem a pretty simple thing so you may think you may as well buy a cheap one, think again. All telescopic poles are not equal.
The first one I bought was at the lower end of the price scale. It seemed good value and worked ok for a short while. Then it became a pain as the mechanism that locks the two poles together began to loosen frequently. So I would be pushing the vacuum along the bottom of the pool and suddenly, instead of the vacuum head moving, the upper pole I was holding would slide into the bottom pole. Once or twice this caught me unaware and I almost toppled over into the pool!
Ideally you want one that is long enough for you to easily reach the halfway point from the side of the pool without you needing to bend. So when you buy one, buy a pretty decent one. It will last many years so you will get value from it.
I now use this JED pool tools 16ft pole which is available on Amazon and have had no problems with it. You can also buy a package containing a telescopic pole, skimmer net and a brush on this link.
4. Pool skimmer net
You will need a pool skimmer net so that you can remove any leaves, insects and other floating debris that may be floating on the pool surface. They are also useful for picking up any leaves etc that may have sunk to the bottom of the pool.
There are many different types of skimmer nets available but my advice would be to buy one that has a tapered front edge (sometimes called a leaf rake) so that you can scoop up the debris without just pushing it along the bottom. This also helps to stop disturbing fine dirt on the bottom when you do it.
If you have trees etc close to the pool that may drop very fine debris such as pollen onto the surface of your pool then ensure you buy one with a fine mesh. Otherwise, any fine debris will just pass through the net and stay in the pool.
I now use this Stargoods Pool Skimmer Net which has a fine mesh and a very effective leaf rake on the front edge.
Also read: Best way to get leaves out of pool
5. Pool Brush
A pool brush is used primarily to brush the pool walls to remove dirt and any algae before you vacuum the bottom of the pool. You also use them on the rungs of a pool ladder.
There isn't that much to say about pool brushes really. Most have a similar design with the ends of the brush tapering upwards to make getting into corners a little easier.
A very popular low-cost basic brush is the Blue Devil Pool Wall Brush Deluxe.
A fairly new type of brush, which I confess I haven't tried yet, has what they refer to as a tail but what I would describe as a wing. This it is claimed increases pressure on the brush against the pool wall by up to 10x. It is the Wall Whale Classic Swimming Pool Brush.
Other pool cleaning accessories that make life easier
Once you have the essential cleaning supplies to carry out routine cleaning you may want to consider some other equipment that can be useful to clean pools. Believe me, you will accumulate more than just the essential tools in time.
Robotic pool cleaners
A robotic pool cleaner, sometimes called a robotic pool vacuum, is the holy grail of pool cleaning equipment. They are something many people with pools would like but generally can't justify the cost. I would say buy one – you won't regret it.
If you can afford one then you will never regret buying one as it takes almost all of the effort out of keeping a pool clean. You just put them in the pool, switch them on and leave them to give you a clean pool.
There are no trailing vacuum hoses that need plugging into the filter system. They collect debris within the cleaner which you empty when you remove the cleaner from the pool.
As well as cleaning the pool floor, most robotic cleaners can even climb and clean the pool walls as well as scrub the waterline.
They can be used in inground pools and most above ground pools too.
If you want to skip all of the time-consuming efforts of manually cleaning your pool right from the get-go then go right ahead and buy one.
My Dolphin robotic pool cleaner is, without doubt, the best thing I have ever bought for my pool.
I wish I had bought one years ago!
The most popular mid-range robotic pool cleaner is the Dolphin Nautilus CC Plus Automatic Robotic Pool Cleaner.
Automatic pool cleaners
These are vacuum cleaners that attach to the pool hose as normal but which move around the bottom of the pool floors using the water flow to drive it in a random pattern.
I have one and it does a pretty good job, particularly if I leave it long enough. It does tend to miss the odd patch but that isn't too much of a problem.
They do climb walls to some extent but not steps and as my inground pool has two steps between the shallow and the deep end it just cleans the deep end. It does do a brilliant job of cleaning the edges between the wall and the pool bottom – better than I can do with the manual vacuum head.
If you have a single depth pool or one with a slope then it should be able to clean all of your pool.
I have a slightly earlier version of the XtremepowerUS Automatic Suction Vacuum-generic Climb Wall Pool Cleaner which may well cope with steps now. It comes complete with its own 30ft hose so is quite good value really.
I find it quite fascinating watching the automatic pool cleaner work actually. When it gets to a corner or a wall it stops and then gradually changes direction in a random way. It almost seems like it is thinking about where to go next! You can see what I mean in my video below:
Buy a floating skimmer
If you have lots of debris in your pool, particularly if you have trees near your pool as I do so you are constantly removing leaves, which your skimmers struggle to deal with, then you may wish to look at adding a floating skimmer to help out.
These robotic pool skimmers are solar-powered and move around on the surface of the pool under their own power collecting debris as they go. You just need to take it out and empty it now and again (as you do a skimmer basket).
It saves you having to use the skimmer net so often and because it moves around it can collect debris before it gets waterlogged and sinks to the bottom, particularly when the pool pump is off so the skimmers are not skimming.
There are two popular models available:
The Instapark pool skimmer works completely on solar power to remove surface debris as well as reduce the amount of dust, leaves, pollen and bacteria. It has a wireless app that you can use to control it.
The Instapark pool skimmer is available on Amazon
The Aquamoto Skimbot 2021 Robotic Solar Powered Pool Cleaner removes 90-95% of surface debris as well as reduces the amount of dust, leaves, pollen and bacteria.
It has an intelligent onboard navigation system that maps the water surface and targets dirty areas. You can also control it through an iOS or an Android app on your phone.
The Aquamoto Skimbot 2021 is available on Amazon
Step and corner vacuum brush
I have one of these because, as I said above, I have two steps in my pool between the shallow and the deep end. This makes the step in the middle difficult to clean with the normal head. This little brush attaches to the vacuum pole and hose just like vacuum heads do and can get into all of the awkward corners and hard-to-reach spaces.
They are very cheap so worth buying. Mine is the Aquatix Pro Pool Step & Corner Vacuum Brush but I am sure the others work just as well.
Pool pole hangers
Ideally you do not want to leave your vacuum poles etc lying on the ground where they can get dirty and damaged. It is far better to hang them up on a fence or a wall near the pool so they are always to hand.
I just bought some tool hangers from a local hardware store and screwed those to my fence but now you can buy purpose-built hangers such as the MENG ZHI 4 PCS Set Pool Pole Hangers. They do the same job but do look better than mine I must admit.
Above ground pool cleaning kits
If you have an above-ground pool you can buy kits designed for cleaning them. The most popular of these are made by the biggest above-ground pool manufacturer, Intex.
The kit includes a vacuum head, net and a 94″ telescoping aluminum pole. It attaches to a garden hose and the debris is collected in a reusable debris bag. You can buy the Intex Basic Pool Maintenance Kit for Above Ground Pools on Amazon.
Pool Maintenance Course
When I first bought my house with a swimming pool, I knew nothing about cleaning and maintaining it. I was recommended Swim University's Pool Care Handbook and video course so I bought it and have never regretted it.
It was probably the best money I spent that year as I have saved thousands by doing it myself.
Can I clean my own pool or should I use a pool service?
Cleaning a pool is not rocket science – although there is a little science involved when it comes to adding chemicals!
It is well within the capability of most homeowners to maintain a swimming pool themselves provided you can devote a little time to learning how to do it. Most of it is just practice. As time goes by it becomes second nature and you can become quite efficient at it.
If you really don't feel that confident then you could get in a professional pool cleaning service initially and watch what they do. Then you could try it yourself. But frankly, that really isn't necessary. I watched Youtube videos and asked friends who had pools if I became stuck.
Hopefully this article and the others in the series will explain pool maintenance for beginners. Read how to clean dirt from the bottom of a pool to get an idea.
FAQs
Do swimming pools add value to a home?
Provided it is a nice, well-maintained pool then in the right area it does add value to a home. In Arizona for example it is more desirable, or even essential, to have one than in upstate New York. It may not add as much as it costs to install it though.
If you want one, and you can afford it, then don't worry too much. The pleasure you and your family will get from it will be worth it whether it is a good investment or not.
Oddly, it can make your house harder to sell in some ways. Quite a large proportion of buyers might see a pool as an expensive luxury they can do without so might not be interested in your house for that reason.
Does the Fire Department fill swimming pools?
An odd but often asked question. No, the fire department does not fill pools (they have better things to do). If you do not want to use a hose (or perhaps cannot due to local regulations) then you will need to employ the services of a water tanker company to bring it to you. Ensure that the water they bring is potable (fit for drinking and swimming).
I stand corrected – someone I know in Minnesota just had her pool filled by the local volunteer fire department so it seems that, at least in some areas, the fire department will do this.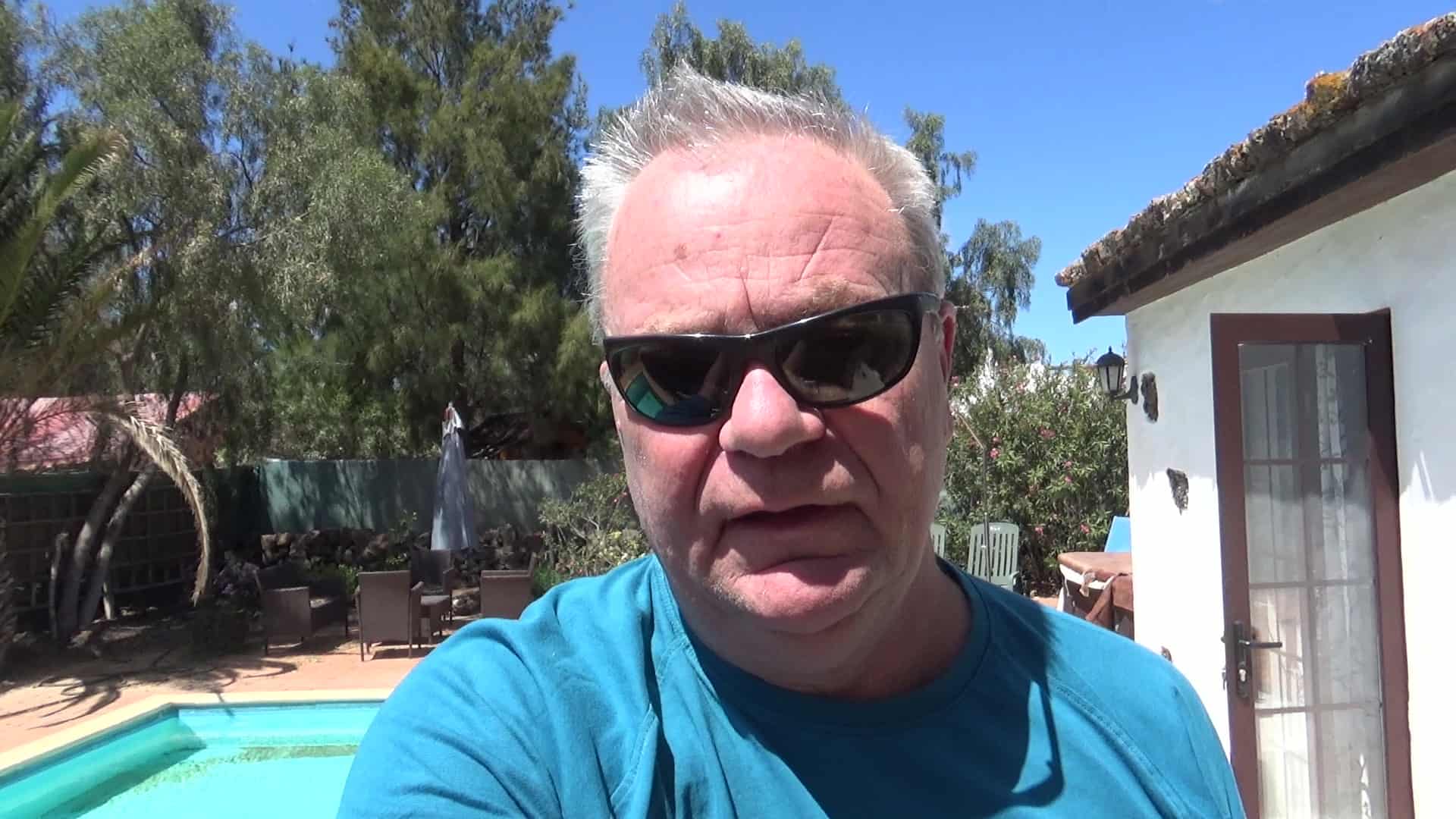 I have had hot tubs for over 20 years and a pool for the last 9 years. I had to learn how to clean, maintain and fix them the hard way. Since then I have helped many friends and neighbors with their pools and now I want to share everything I have learned with you. About Me